Welcome to Smith & Valentine, a name associated with the provision of legal services in South West Scotland for almost 100 years, specialising in the needs of private and commercial clients.
Smith & Valentine is a modern forward thinking firm of solicitors based in Girvan, South Ayrshire on the coast of South West Scotland and also in Stranraer.
Legal Services have been provided under the Smith & Valentine name to the local rural community of Ayrshire and to commercial clients in the South of Scotland since the early 1900's.
Our practice today focuses on what we perceive are the needs of the individual, buying and selling property (conveyancing), preparation of Wills and Powers of Attorney, inheritance and other tax planning, trust and executry administration, matrimonial and family matters together with a wide range of services to our commercial clients including development site acquisition and disposal, business start up, partnership advice, agricultural work and sale of purchase of farms and advice on all aspects relating thereto including windfarm and other development and diversification opportunities. More information on the areas on which we specialise can be found in the legal services section of this website.
We also have an office in Newton Stewart, Dumfries & Galloway, where we practice under the name McCormick & Nicholson.
Help support St John Scotland's West Galloway Branch
Smith & Valentine Solicitors offer charity Wills on an annual basis from their Girvan office and now plan to extend this initiative to their Stranraer office at 91 George Street, Stranraer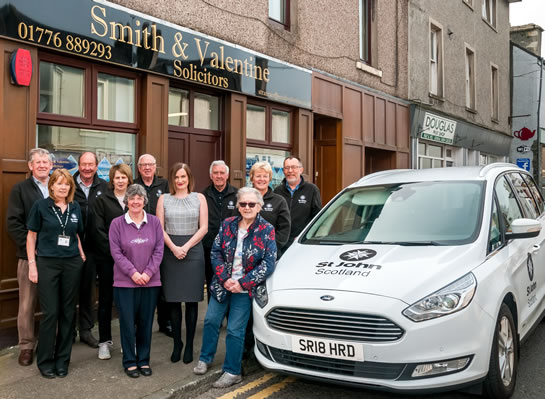 The photo shows Shirley McNeill, Smith & Valentine with some St John Scotland West Galloway committee members and Willie Waterson, transport co-ordinator with some of the volunteer drivers.
Under this scheme instead of charging clients for a fee plus VAT for the preparation of their Wills and Codicils they ask them to make a donation to support Smith & Valentine's chosen charity.
This year they are supporting St John Scotland (West Galloway Branch). The usual fee is £100 for a single Will and £150 for a pair of mirror Wills. However, this is very much a guide and the donor can decide how much to give.
All donations will be passed in full to the charity. UK taxpayers can enhance their donations by 25p in the pound by filling out a Gift Aid declaration.
St John Scotland, West Galloway Branch, does a great deal of work in the Stranraer area, including addressing the difficulties surrounding patient transport, such as their Cancer Patient Transport Service, and the St John's Unit with in the Galloway Community Hospital provides two high amenity beds for the benefit of patients requiring palliative care. In addition, support is given to Hospice at Home.
Smith & Valentine are offering this charity service from 1st May 2019 until 31st May 2019.

Anyone looking to participate in this Charity Will scheme should contact Jennifer Scott on 01776 889293, email Jennifer.scott@smithvalentine.co.uk or pop into the office in George Street where they will be happy to help
Smith & Valentine is now a trading name of Galloway and Ayrshire Partnership LLP. Reg No. 50308208
If you would like to view Properties for Sale and to Rent in our area of South West Scotland please follow the link to Galloway & Ayrshire Properties.